I'm a sucker for impulse shopping. I see something I want, hold it in my hands, smell it, and buy it! This past weekend, I resisted temptation while at
Chapter's
(large bookstore chain in Canada). I went in to scout out some new design books, some international design glossies, and the cookbook section. I found everything I was looking for, but, the only thing I walked out of the store with was the new issue of
Domino magazine
, UK shelter magazine
Ideal Home
(wow! More about this amazing magazine later in the week), and a book from the clearance section called
Scandinavian Modern Home
, by Elizabeth Wilhide. The only reason I walked out with the later, was because it was only $25 Canadian, at over 50% off the regular price.
I almost gave in to temptation and bought the
new Domino book
, I had it in my hands, and was practically drooling over it, but I remembered a post I read on
decor8
last week about
decorating on a budget
.... I held my breath, and put the book back on the shelf telling myself to wait until I got home to check the price on
Amazon
. I am sooo happy I did! In-store, the book was $37.00 Canadian. Online, it was only $23.00 Canadian! That's almost 40% off the list price! I was so happy, that I bought another book on my wish list,
Handmade Nation
, regularly $27.95 Canadian bought online for only $18.00 Canadian! That's 35% off! I've never really thought twice about buying a book online vs. in store, nor did I realize the savings involved.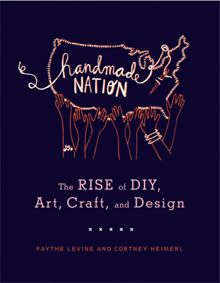 The post on decor8 got me thinking about how I could cut back to save money, nothing too drastic, but maybe only 1 trip to Starbuck's per week instead of every morning, bringing my lunch to work, and recycling more stuff, such as gift bags and ribbon. This will help me save up for the new
sofa
we will be buying from Crate and Barrel this January.
You may have noticed a new link in the DecorAddict
Elseware
section of the page, the link is
DecorAddict Books
! Yes, that's right, you can buy the latest design books online here at DecorAddict!
What design books have you been buying or have on your wishlist? What design magazines are your favorites? I'd love to hear from you!